Technology Training for All
Digit All Systems, Inc. is a 501(C)(3) non-profit organization committed to bridging the digital divide.
We offer technology courses during the day, evening and weekend hours.
Courses are taught at our administrative offices as well as off-site at your location.
Allow Digit All Systems to be your technology trainer.
Courses that we Offer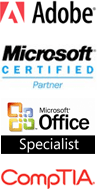 Adobe Certification
HTML Programming
A+ Language
C++ Language
Microsoft Certification
Basic Computing
Comp TIA Certification
200 East Lexington St. Suite 1600
Baltimore, MD 21202